The Cigar Shoppe at City Farms Alcoa, TN
Welcome to The Cigar Shoppe at City Farms, a distinguished establishment nestled in the heart of Alcoa, serving Blount County, Tennessee, and beyond. As the premier cigar shoppe in Blount County, we invite you to embark on a journey into the world of premium cigars and luxury. Our commitment to providing an unparalleled smoking experience begins the moment you step through our doors. As passionate cigar enthusiasts ourselves, we've created a haven for those who appreciate the art of handcrafted cigars and the finer aspects of cigar craftsmanship.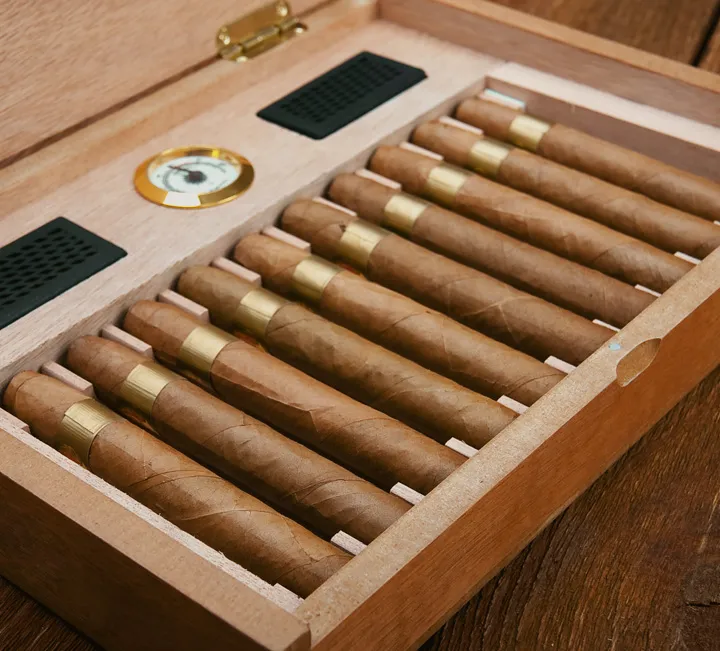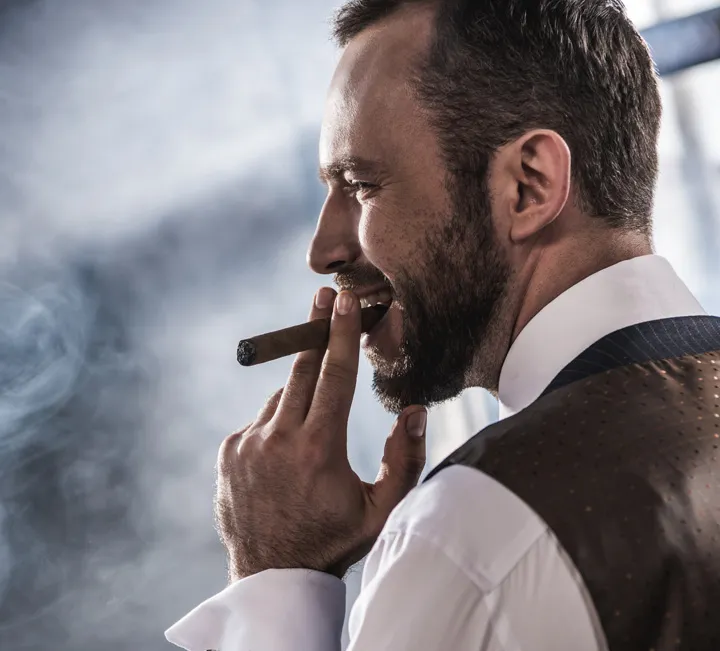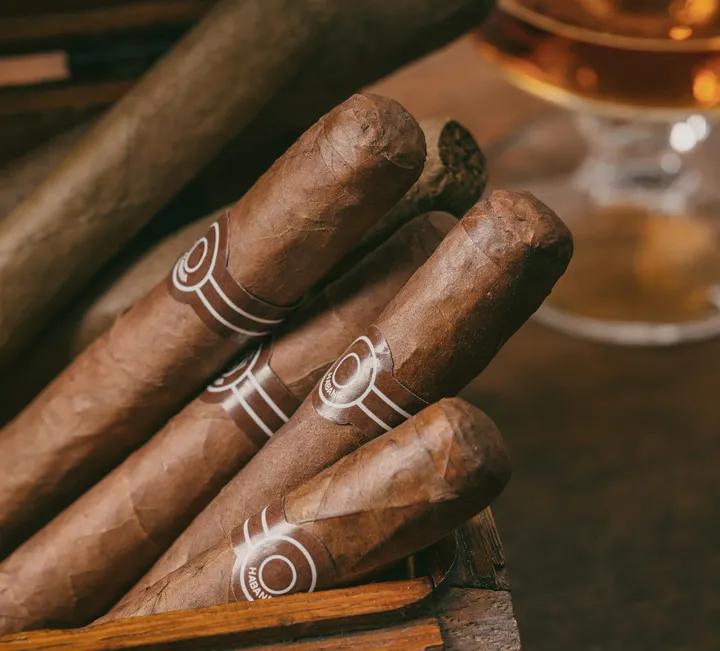 Humidor
Discover an unparalleled cigar haven within our expansive 1,000 sq ft walk-in humidor, located in Alcoa, TN. Immerse yourself in a world where humidity levels are delicately maintained between 68-70%, and the temperature is a constant 71 degrees Fahrenheit. This ensures the cigars you acquire from The Cigar Shoppe at City Farms are flawlessly conditioned, promising a luxury smoking experience of utmost satisfaction. Our walk-in humidor is a sanctuary of cigar excellence, where every blend is perfectly preserved and aged to perfection. Whether you're a seasoned connoisseur or new to the world of premium cigars, our humidor promises a captivating experience for every palate. Visit us in Alcoa, Tennessee, and step into a realm where cigars are elevated to an art form, and every detail is designed to enhance your enjoyment.
Wide Selection
Delight in a meticulously curated premium cigar selection designed to captivate both loyal locals and visitors drawn to the allure of the Smoky Mountains and Blount County. While others may boast sheer volume, The Cigar Shoppe at City Farms focuses on quality that resonates with the discerning cigar aficionado. Our assortment is a testament to our dedication, featuring an array of esteemed brands that have garnered both respect and admiration. Within our carefully chosen selection, you'll find distinguished names such as OpusX Lost City, God of Fire, and Don Carlos-Edicion de Aniversario. These exemplify the pinnacle of cigar craftsmanship and taste. But our commitment doesn't stop there. We're also proud to offer the legendary Patron Cigars and the prestigious Padron Thousand series, embodying the epitome of cigar excellence.
An Array of Offerings
Explore a plethora of esteemed brands that enrich our shelves:
My Father
Oliva
Xikar
AVO
Camacho
La Flor Dominicana
General Cigar Brands – CAO, Cohiba, Punch
Altadis Brands – Aging Room, Henry Clay, H. Upmann, Romeo Y Julieta, Montecristo, Saint Luis
Rey
DBL
Foundation Cigar Brands – EL Gueguense, Wise Man, Olmec, The Uppsetters, Charter Oak, Metapa, Tabernacle, Knight Commander
Cavalier
Aganorsa
Ashton, La Aroma De Cuba, Saint Cristobal
Caldwell Cigar Brands – Eastern Standards, King is Dead, Long Live the King, Blind Mans Bluff, Anastasia 2022
Colibri Cutters
Drew Estates – Acid, Undercrown, Liga Privada, Kentucky Fire Cured, Tabak, Pappy Van Winkle, Deadwood, Factory Smokes
EL Septimo
Partagas
Forged
Frued
Room 101
Hiram & Solomon
Perdomo
West Tampa
Prometheus Cigar Accessories
Lounge
Step into our 800 sq ft smoke lounge, a haven where relaxation intertwines. Whether you seek a serene work corner with Wi-Fi or a cozy spot to catch the game on big screen TVs, our lounge provides the perfect setting. Dual 550 CFM exhaust fans and Blu-Air Hepa Air Purifiers ensure a smoke-free environment, while complimentary bottled water and coffee enhance your stay. Sink into comfortable chairs and engage in conversations with fellow enthusiasts, all in the warm ambiance of our carefully curated decor.
The lounge is designed to be a tranquil oasis, where the stresses of the day melt away as you unwind. Whether you're alone, with friends, or making new acquaintances, the peaceful atmosphere encourages relaxation. The soft glow of ambient lighting and the gentle hum of conversations create an inviting space where you can truly disconnect and enjoy the moment. At The Cigar Shoppe at City Farms, our smoke lounge elevates your cigar experience to new heights, offering a serene sanctuary for you to savor the pleasures of life. Unwind, relax, and immerse yourself in the world of premium cigars in our thoughtfully designed lounge, where every detail is crafted to enhance your enjoyment.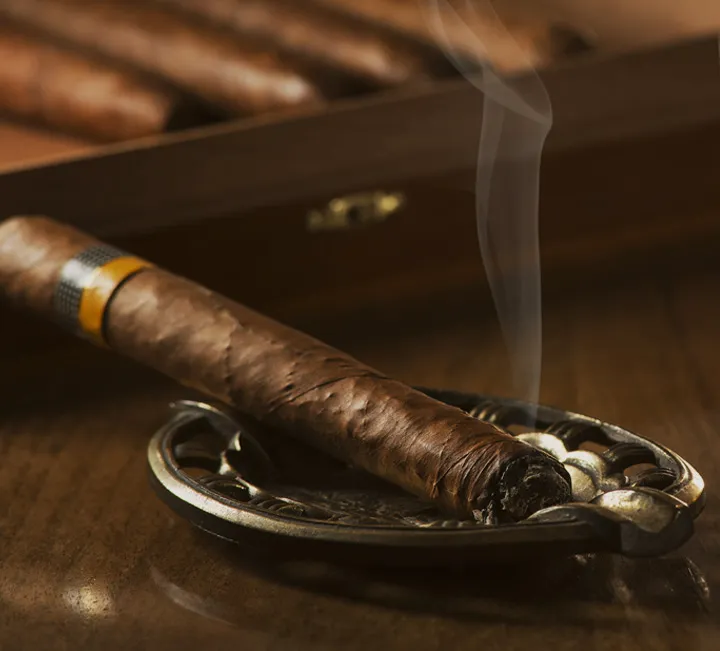 Expertise
At The Cigar Shoppe at City Farms Alcoa, our expert tobacconists and cigar aficionados are seasoned experts who continually refine their craft to serve you knowledgeably. Our commitment to enhancing your experience resonates in their profound insights and guidance. Their extensive knowledge ensures you're paired with cigars that align with your individual preferences, making every visit to our fine cigar shoppe, a tailored journey of delight. With an extensive reservoir of expertise, they skillfully guide you through our curated selection, ensuring that each cigar you select aligns seamlessly with your individual preferences. Whether you're a connoisseur seeking a bold and robust flavor profile or someone who prefers the more delicate nuances of a milder smoke, our experts are here to craft your journey to perfection.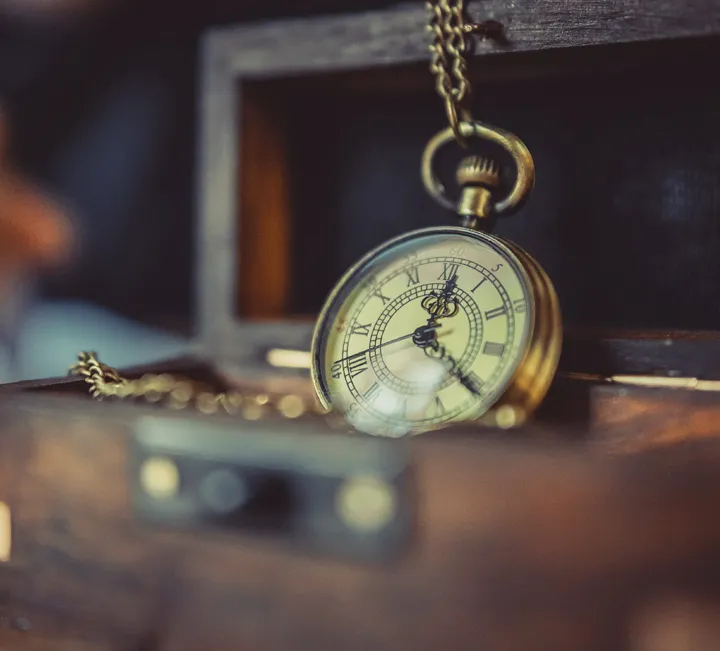 The Cigar Shoppe Experience
The Cigar Shoppe at City Farms invites you to embrace a world where fine cigars and luxury intersect. Located in Alcoa, Tennessee, at the heart of Blount County, our commitment to quality, camaraderie, and a discerning selection sets us apart. Whether you're seeking to enrich your cigar collection, unwind in our inviting lounge, or engage with passionate experts, our doors are open to you. Join us and experience a realm where every moment is crafted to elevate your love for cigars. Your journey awaits, alongside fellow tobacco aficionados who share your passion.
Explore Our Diverse Cigar Selection:
Experience My Father's Expertise: Immerse yourself in My Father cigars, a testament to skilled craftsmanship.
Uncover Oliva's Signature Blends: Indulge in Oliva's distinct blends, each offering a unique flavor journey.
Enjoy Xikar's Precision Tools: Elevate your experience with Xikar's precision-cutters, designed for cigar aficionados.
Taste the Melodies of AVO: Let AVO Cigars delight your palate with harmonious flavors that sing.
Savor Camacho's Boldness: Explore the boldness of Camacho cigars, perfect for those seeking intensity.
La Flor Dominicana – Masterful Artistry: La Flor Dominicana cigars showcase masterful artistry, delivering cigars that stand out.
General Cigar Brands – Time-Honored Classics: From CAO to Cohiba, experience General Cigar Brands that have stood the test of time.
Altadis Brands – Elegance and Legacy: Enjoy the elegance of Aging Room and the legacy of Montecristo – Altadis Brands with respect.
DBL – Moments Captured in Smoke: DBL cigars capture moments in tobacco, shaping experiences that resonate.
Foundation Cigar Brands – Tradition and Progress: Experience Foundation Cigar Brands, where cigars tell stories of heritage and innovation.
Cavalier – Modern Flair: Cavalier cigars offer a modern twist on tradition, bold and visionary.
Aganorsa – Soil and Tradition Combined: Aganorsa cigars celebrate soil and tradition, crafting cigars connected to the earth.
Ashton, La Aroma De Cuba, Saint Cristobal – Diverse Variety: Immerse yourself in the variety of Ashton, La Aroma De Cuba, and Saint Cristobal cigars.
Flavor Symphony and Unique Experiences:
Caldwell Cigar Brands – Artistry Redefined: Caldwell Cigar Brands redefine artistry in cigars, blending creativity and passion.
Drew Estates – Creativity Unleashed: Drew Estates cigars showcase creativity without boundaries, pushing flavors and craft.
EL Septimo – Elegance and Luxury: EL Septimo cigars embody elegance and luxury, offering refined modern experiences.
Partagas – Time-Honored Traditions: Partagas cigars encapsulate timeless traditions, delivering rich historical flavors.
Forged – Excellence Ignited: Forged cigars ignite excellence, delivering cigars with dedication and fire.
Frued – Expressions of Flavors: Frued cigars express flavors that evoke emotion and exploration.
Room 101 – Unconventional Pleasures: Room 101 cigars bring unconventional pleasures, offering daring innovation.
Hiram & Solomon – Brotherhood in Every Puff: Hiram & Solomon cigars celebrate camaraderie, uniting over shared moments.
Perdomo – Craftsmanship Perfected: Perdomo cigars exemplify perfected craftsmanship, catering to diverse palates.
West Tampa – Nostalgia and Authenticity: West Tampa cigars evoke nostalgia and authenticity, honoring tradition.
Prometheus Cigar Accessories – Elegance Redefined: Enhance your experience with Prometheus Cigar Accessories, combining style and function.
Visit The Cigar Shoppe At City Farms Alcoa, TN Today.